"Techstars Startup Weekend Tbilisi" was held in Georgia
16 December 2022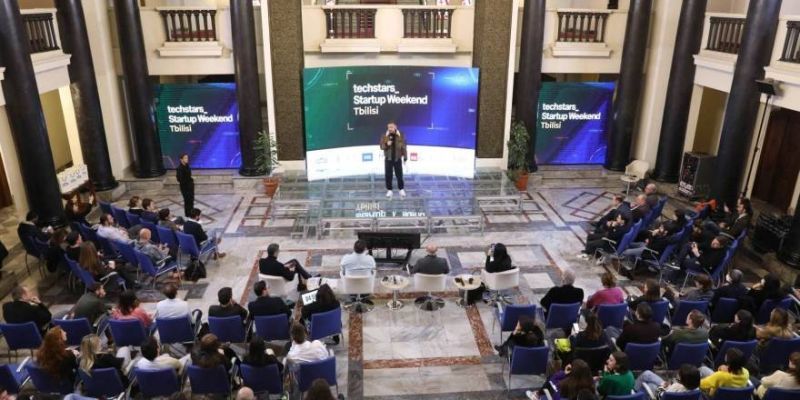 "Techstars Startup Weekend Tbilisi" was held for the first time in Georgia on December 16-18.
On the initiative of Startup Georgia, "Techstars Startup Weekend Tbilisi" was held for the first time in Georgia on December 16-18.

This is an international and the most accredited practical activity, where participants have a remarkable opportunity to create and pilot startups for 54 hours.
One of the most striking factors of the event was that it had 50 contestants and among them was Gvantsa Gugunava, who is the project manager of The idea Design group.
"It was an extraordinary event full of obstacles and barriers. The creation of a start-up was one of the most exciting and dumbfounding experiences. It was an incredibly tough task for us because we had to make a Startup only from an idea-precisely in 54 hours. The consecutive step was to present our venture in front of a respectable jury. Our assigned mentors gave us detrimental pieces of advice and guided the group in the right direction".
The culminating days of ,,Techstars Startup Weekend Tbilisi'' was held in the Georgian parliament, where every contestant was given memorable presents by the members of Parliament.
The ceremony was dedicated to the presentations of the startup ideas created during 54 hours within the world's greatest acceleration program Startup Weekend.
It is a great honour for us to have such priceless activities and events where Startups are greatly encouraged and promoted. Techstars Startup Weekend Tbilisi was the country's pioneer event which will undoubtedly stimulate further development and the establishment of the Georgian startup ecosystem.

Photo: The Parlament of Georgia
News
Georgia`s Innovation & Technology Agency hosted the presentation of the results of the National Innovation Ecosystem supported by the World Bank.

Members of our team, Anuka Topuridze and Gvantsa Gugunava, participated in the European Innovation Academy camp.